While I'm nursing a food baby to last me to February(sign of a very good Christmas) I thought I would share some of my favourite artists of 2012 with you all. I have been very lucky seeing some of my favourite musicians this year and have found people who I would LOVE to see next year! Here goes...
What I Listened To:
This year I have been spoilt for musical choice, with new bands and musicians releasing what may be some of my favourite albums, as well as top notch artists producing some crackin' new albums.
Some of my current favourites I was lucky enough to see over the summer at Latitude and End of the Road festival, and in these grey winter months I've been pining for the hazy evening sun of the Suffolk and Dorset fields listening to these artists again.
Ben Howard - 'Every Kingdom' album
is simply marvellous. Every song is a summery nugget of loveliness - always being reminded of swimming in the sea singing 'Only Love' with my sister or being in a mass of people all 'woooooo'-ing to 'The Wolves' even in the coldest of times.
Laura Marling - 'A Creature I Don't Know' album
. I know it was released in 2011 but Miss Marling you folky goddess genius. Her third album is nothing less of perfect, with songs reminiscent of Joni Mitchell and Patti Smith this is not only one of my favourite albums of hers but definitely of my year.
Alabama Shakes - 'Boys & Girls'
. I was lucky enough to see Alabama Shakes 3 times this year and every time was as magical and captivating as the first. One of my highlights of End of the Road was seeing the sun set and Brittany Howard exclaiming "it's time to party!" and everyone dancing on the hill in delight.
First Aid Kit - 'The Lion's Roar'
is the second album from the Swedish sisters and boy is it a gooden. Their hair swinging became my signature dance move at Latitude (sorry to anyone who witnessed it) and their harmonies are truly beautiful. The first song I fell in love with was 'Emmylou' when my friend and I were sitting with a pint of cider slowly picking up the words and singing along completely by the end of it as though we had known them all our lives.
Grizzly Bear - 'Shields'.
It's fair to say that Grizzly Bear have most probably been one of my most played bands this year, from re-living the genius of 'Veckatimest' and 'Yellow House' to relishing in their newest work of amazingness. I wish I knew this album when I saw them at End of the Road(which is nearly impossible as it wasn't released at the time...) because they were incredible and singing along to these tracks of beauty would have been a dream!
I love finding new music to fill up my iPod with, and there have been lots of albums I couldn't wait to listen to the whole way through, including Lucy Rose's 'Like I Used To', Jake Bugg's self-titled debut album and The Civil Wars' 'Barton Hollow'. I saw Lucy Rose in November and she was every bit as lovely live as her album is, and cannot wait to see Jake Bugg in February(my lovely friends got me tickets for my birthday). I was devastated to hear the news about The Civil Wars last month as their album got me through my exams last summer with their exciting harmonies and lyrics that transported me to the Southern states of America.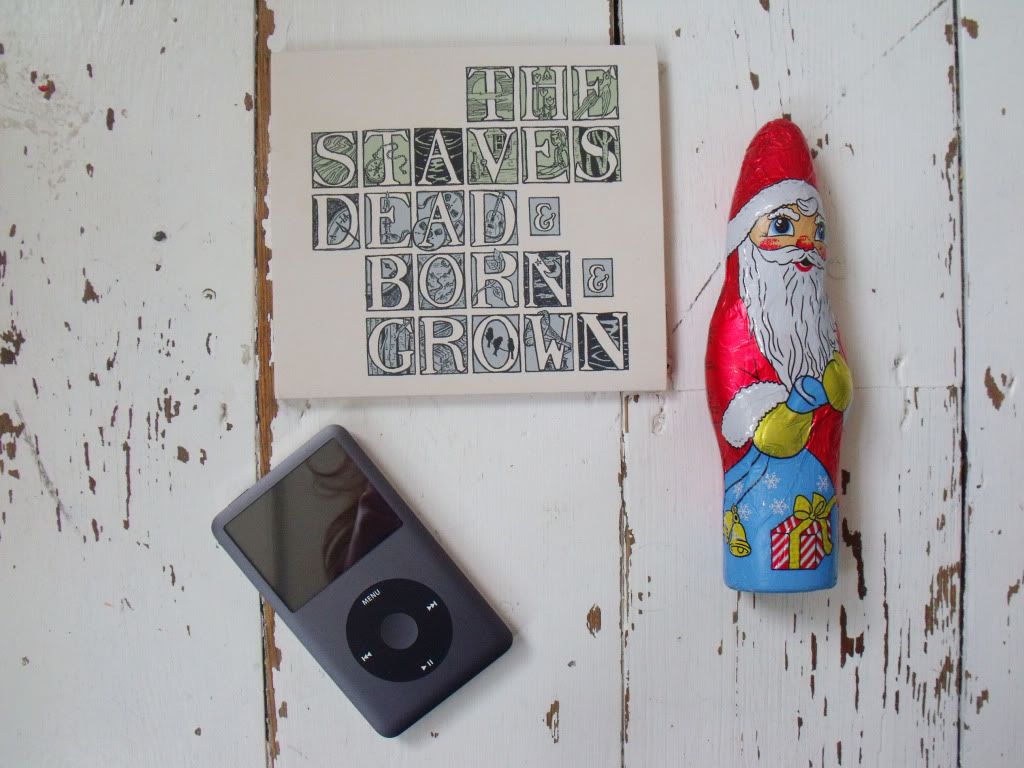 One band I have been a wee bit obsessed with since I got their album for Christmas(just under a week and I have had it on repeat) are The Staves with their beautiful folky album 'Dead & Born & Grown' (and whose lyrics I have to thank for the title of this post). I cannot believe I missed them on tour with James Vincent McMorrow last year, it must have been so magical and I cannot miss the next time either of them play!
My new iPod has made me truly excited about buying music and some other artists I have enjoyed listening to are: Peace('California Daze' is perfection), Daughter, Horse Feathers(I have listened to 'House With No Home' countless times now), James Vincent McMorrow, Beach House, Daniel Rossen and how could I forget the Dylan-esque tones of The Tallest Man on Earth?!
I had no idea this post would be anywhere near as long as this and have been writing it for a good few hours, but I really hope you enjoyed reading it as much as I have done compiling my musical highlights!
Hope you had a lovely Christmas and a very Happy New Year x